Revonet

for people

Help us Help others
In this difficult time, Revonet has decided to open its platform to raise funds completely for free.
We believe that in difficult times every individualism must be put aside and be ready to extend a hand to others.
For all associations and institutions, it will be possible to create your own campaign on Revonet completely free of charge!
How to Create your Fundraiser
Revonet is the advanced platform to manage your online fundraising and in general for the Fundraising activity of your association or yourCrowdfunding.
For all your reasons it is essential to create a group of testimonials and develop a community that will follow and support your initiative.
We will support you on the media on our social channels.
All this without costs and commissions in maximum transparency.
The necessary materials to be published on the page are the following:
Logo of the applicant's header;

Text, photos, videos (In your dedicated web space you can enter all the information you want);

Reason and description of the cause or campaign;

The goal, if the harvest foresees it.
What do you have to do in practice?

Tell your story
Opening a page for free and describing your initiative is not enough.
You can start a fundraiser for a particular project but you need to raise a community around your cause.

Engage your community
Use email, Facebook, Twitter and any other means to spread your page. Your friends and family will be able to do the same and make your cause known to the world.

Collect funds
Donations will go directly to you and Revonet will ensure their transparency. Each contribution is traced and publicly visible (only if you wish) and the total collected will always be clear.
Enter your bank account for wire transfers or the postal account for bulletins. If you want to use PayPal you can let us know later.
The platform is totally free and does not retain percentages.

What do you need to do to start your campaign
quickly and profitably?
To allow fundraising in some cases, the documentation for the Anti-money laundering verification will be required as per current regulations.
Person:

valid identity documents in color (identity card or passport);

an official bank document with logo and C / C header.

Legal person:

Chamber of Commerce Certificate updated;

description of the corporate activity;

the company's final statute with the minutes of the administrative body;

valid identity documents of the single or delegated director;

valid member documents with more than 25% of the company shares;

official bank document with logo and c / c header.

Associations or Bodies:

copy of the articles of association;

tax code of the organization if in possession;

description of the activity;

the company's final statute with the minutes of the administrative body;

proof of identity (as required for the natural person) of the entire administrative body;

official bank document with logo and c / c header.
Once we receive the documentation, we will immediately open your collection form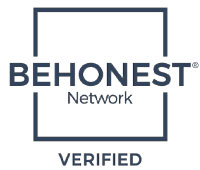 To avoid fraud, especially in this period. All fundraisers who want to publish their campaign on Revonet are required to sign a digital agreement with BEHONEST by filling out an online form.
To access the fundraising service for free, fill out the form below and we will contact you as soon as possible.